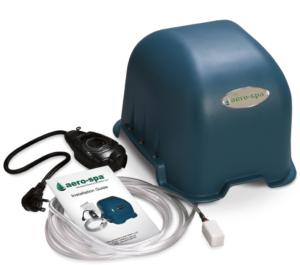 Hot tub chlorine floater is a very popular accessory. We offer an alternative to a hot tub chlorine floater that minimizes the required maintenance of your hot tub. Hot tub accessories come in all shapes and sizes. Most hot tub accessories offer some convenience or aesthetic value. The absolute best hot tub accessory available is the Aero-Spa™ Automatic Water Care System.
It is one of the only hot tub accessories that will actually pay for itself in chemical savings and reduced maintenance time. The average hot tub owners spends about $600 per year on hot tub chemicals. Most people do not realize this because the money is spent in rather small increments. What does it take to buy and then apply these hot tub chemicals? The answer is more than 30 hours per year. Imagine getting an extra week of vacation from work every year that you could use however you wish! Spend more time enjoying your hot tub and less time maintaining it.
Not only will you save time and money, your hot tub will be more inviting and relaxing! Everyone using your hot tub will enjoy and rave about their experience, no chemical odor and crystal clear water!
Benefits of Alternative to a Hot Tub Chlorine Floater
The Aero-Spa™ Automatic Water Care System will eliminate:
Harsh Hot Tub Chemicals
Foul Chlorine and Chloramine Odors
Red Irritated Eyes and Itchy Skin
Hours of Chemical Balancing
Foaming
Swimwear Fading
Easy to Install Hot Tub Accessories
The Aero-Spa™ Automatic Water Care System can be installed in all hot tubs by anyone in minutes without tools. Simply lower the diffuser into the water, set the timer and plug it in! The powerful ozone generator will do the work automatically. You won't need to constantly chase the pH levels and add all of the nasty chlorine or bromine that irritates your skin and destroys your swimsuit. Put the Aero-Spa™ at the top of you hot tub accessories list.
Call Us Now at 1-877-226-8111 to learn more!