Less Time Maintaining – More Time Enjoying
High-Output Ozone Generator
Five times more powerful than a built-in ozone generator. Quickly reduces and filters out the same contaminants as chlorine with none of the negative effects from harsh chemicals.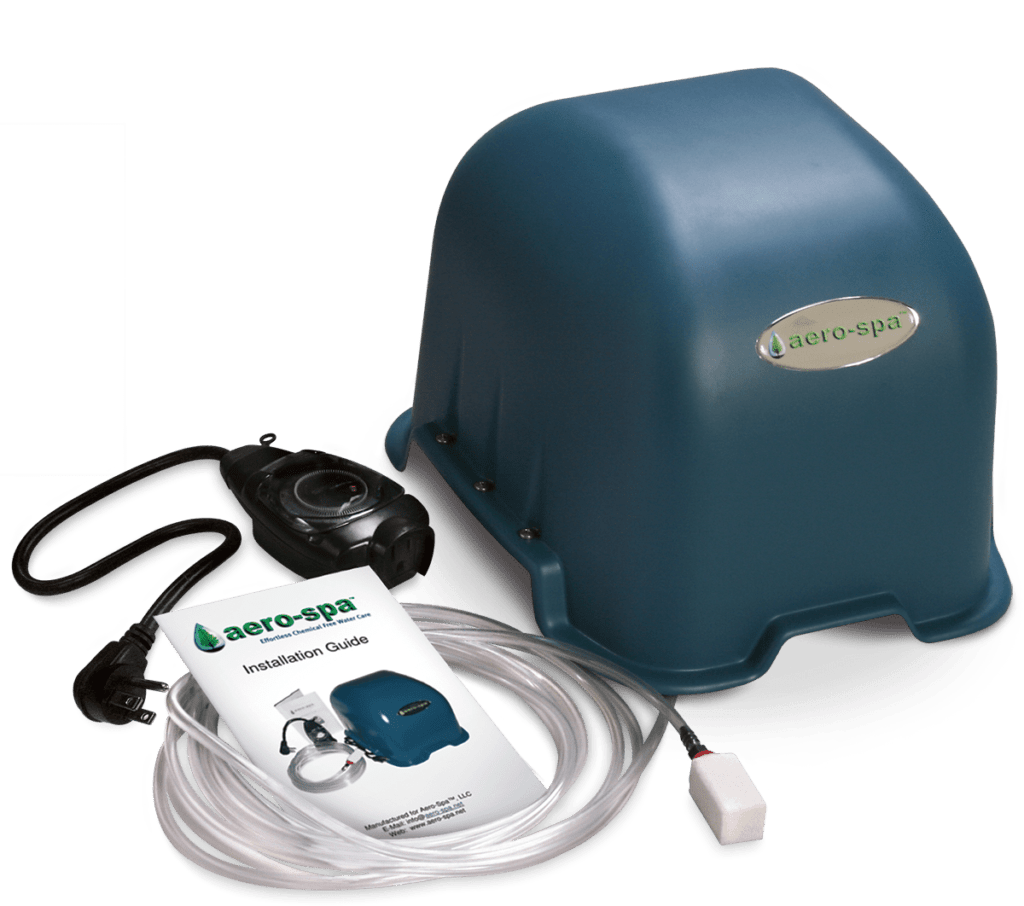 5-Minute Install
Simply connect the power and ozone tube, lower the diffuser into the water,  and configure the timer for when your hot tub will be unoccupied. The whole process takes 5 minutes and will save you hours.
One-Time Cost
The average spa owner will spend up to $600 on chemicals every year. When you purchase an Aero-Spa you'll enjoy a sparkling clean hot tub with no minimal additional expenses.
Aero-Spa®
Hot Tub
$727 

$627
Aero-Spa®
Complete
$832

$732
Free Shipping
Within Continental US
Designed & Assembled
In the USA

BBB A+
Accredited Business Rating
Free Unlimited Technical Support

One Year Equipment Warranty

20-foot Ozone Line

Sintered Diffuser

Installation Guide

High Output Ozone Generator
* Because we cannot control how your hot tub is used/maintained and according to the EPA we must recommend maintaining at 1 – 2 PPM of an approved residual sanitizer to minimize cross contamination of users. To put this into perspective, the EPA recommends 4 PPM residual chlorine in public drinking water, so the concentration of chlorine will be 4x less than the water you drink or bathe in. To obtain a 1 PPM ratio in a 500 gallon hot tub, you would need to add about 0.63 OZ (1.25 tablespoons) of regular household bleach (6% sodium hypochlorite). If you substitute swimming pool chlorine (10% – 15% sodium hypochlorite) you would need about half as much.
Sparkling Clean Track Record
This is the best thing ever. I have had it connected for about 2 months. I was able to cancel my spa service saving me $1000.00 a year. So this is a bargain @ $500. Water is clear with no nasty chemical smell. Customer service was excellent. I have recommended it to my nephew and he is buying one.

I was just about to order about $150 worth of chemicals for our hot tub and decided instead to research something that was chemical free. We have had our ozone treatment in place for a month and it is fabulous!!! We just returned from a 9 day trip and the water was clean as could be. It is so nice not to have to shower off after use and slather on the lotion. We find ourselves using the hot tub more often, and enjoying it more because of the lack of chemicals, not coughing on the mist, etc. Installation was a piece of cake. There is nothing we don't like about this new system. It's definitely money well spent!!

I've had a hot tub for about 2 years and had got the chemical routine down pretty good but when I saw this I had to give it a shot. Now it's a tablespoon of chlorine a week and nothing else. Waters clear and maintenance free. I'm saving time and money. I called after I had installed it to ask some questions and felt like I was talking to an old friend. Very helpful and friendly!

A must buy for anyone who has a hot tub! This product is easy to set up and my water has never been clearer. You will not be disappointed. As long as I have a hot tub, I will ALWAYS have an Aero Spa system in it. No need to shower, no more adding chemicals, set it and forget it!
Free Expert Support Available
(877) 226-8111